FE NEWS National Apprenticeship Week Supplement Features Two AoA Council Members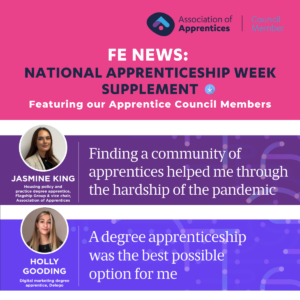 15 February 2022
National Apprenticeship Week 2022 was a week packed full of information, events, and inspirational stories as the community came together to #BuildTheFuture.
FE Week's special supplement marks 2022's National Apprenticeship Week:
"We're proud to be able to bring together voices from the range of players working together to make apprenticeships a success; from the politicians and policymakers to the apprentices themselves".
Today, FE NEWS has published their special supplement for National Apprenticeship Week which features two of our Apprentice Council members: Jasmine King and Holly Gooding.