Association of Apprentices presents '#BuildTheFuture Through Community'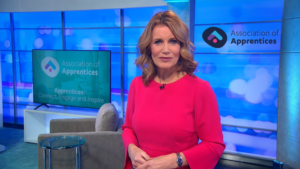 10 February 2022
Yesterday, the Association of Apprentices held their flagship event which premiered their showcase of Apprentices: Connect, Engage and Inspire, a news-style digital programme exploring the apprenticeship landscape of the UK and the future of employment as we emerge from the pandemic,  produced by ITN Productions Industry News. Watch the full programme here.
Attendees also heard from Joining us in conversation on the importance of community, the Association's mission, and how to get involved:
• Sir Peter Estlin, Chair – Association of Apprentices
• Jason Holt CBE, Vice- Chair – Association of Apprentices
• Jessica Oghenegweke, Non-exec Director – Association of Apprentices and former Social Mobility Commissioner – Department for Education
• Emily Austin, CEO – Association of Apprentices
• Kathryn Marshall, Vice Chair – Apprenticeship Ambassador Network and Apprenticeship Senior Manager – Lloyds Banking Group
• Zara Khan – Apprentice Council member, ESOL COVID Project Officer, and former L4 Project Management Apprentice, Walsall Council
Missed the event? Don't worry. Watch it now.