The Association of Apprentices announce new partnership with Investors in People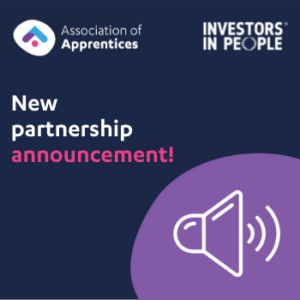 21st October 2021
The Association of Apprentices (AoA) marks a landmark partnership with Investors in People (IIP) in their mission to connect thousands of apprentices through their virtual networking community for peer-to-peer learning and support.
The AoA aims to fill the gaps in the apprentice experience which, unlike their professional counterparts or student equivalents, can lack a sense of community belonging.
In partnership with IIP, the AoA can help hundreds of employers and training providers to embed the community into their apprenticeship offer, prioritising apprentices' needs from work skills to wellbeing and providing advice, news, and the opportunity to connect amongst peers.
 With their We invest in apprentices accreditation, IIP understand the importance of commitment, development and support in maximising apprentices' experience and potential.  The AoA is one of the ways in which organisations can do this.
The partnership will offer IIP practitioners additional support when conducting We invest in apprentices assessments, with training sessions led by the AoA's own apprentice members. This will help represent the apprentice voice in practitioners' assessments
This follows AoA's recent technology transformation where they have solidified their offering to the apprentice community with a bespoke social-networking platform and Learning and Development tool.
To commence the partnership, IIP and AoA will co-host a virtual event from 2pm on 16th November to explore the value of peer-to-peer support and community as an essential part of an apprenticeship programme.  Registration for the event can be found here.
Emily Austin, Engagement Director at the AoA said:
"The Association of Apprentices is incredibly excited to be partnering with such a well-established organisation. Investors in People's purpose aligns harmoniously with AoA's, putting employees at the centre of the conversation".
Paul Devoy, CEO at IIP said:
"We are equally as thrilled to be partnering with The Association of Apprentices. Together, we will change the world of work for so many people, particularly those who are undertaking an apprenticeship be that as an entry route to work or as part of their ongoing development. This is an exciting time to be an apprentice!"
About Investors in People
At Investors in People we've been making work better for organisations across the world since 1991. In that time, we've worked with over 11 million people and over 50,000 businesses. Because happy people are healthier people, and healthier people are more productive. Productive people are good for business, and in turn, society. See where we're going with this? If you'd like more information about Investors in People, what we do and who we're working with, visit www.investorsinpeople.com.
About the Association of Apprentices
The AoA was created in an effort to help boost the number of the work-based trainees staying on and completing their course. It is a membership service created for apprentices, by apprentices. It is led by a council of current and past apprentices who help ensure the service meets the evolving needs of its members.
It gives apprentices access to information, advice and guidance about their programme, whilst providing social and broader elements of the apprentice experience.