Research shows apprenticeships give real benefits to employers - and quickly add value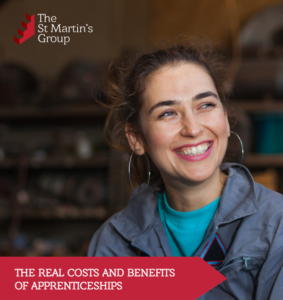 22nd September 2021
New research by The St Martin's Group demonstrates the fact that apprentices on average not only give real benefits to employers but do so quickly. Furthermore, apprenticeship holders also outperform the wider labour market on several indicators.
Even though there is an associated cost to employing an apprentice over and above their salary (i.e. delivery of the apprenticeship, line manager's time etc), this important research shows that apprentices' output surpasses their associated costs and therefore deliver a net benefit to their employers. 98% of employers also experienced additional benefits to their businesses from employing apprentices.
You can read the full report here.