Guides for Apprentices and Apprentice Managers Now Available!
13/09/2023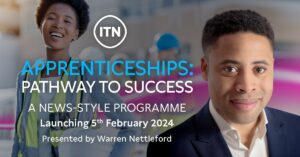 Press Release
ITN Business Announces: 'Apprenticeships: Pathway to Success" – A News-style programme to mark National Apprenticeship Week 2024
ITN Business, is proud to announce the production of an informative news-style programme, 'Apprenticeships: Pathway to Success', in partnership with the Association of Apprentices, UCAS and the Scale UP Institute. This programme will demonstrate how apprenticeships are a key gateway for lifelong careers, education, and skills development. The programme will be presented by ITN Business presenter, Warren Nettleford. 'Apprenticeships: Pathway to Success' will launch during National Apprenticeship Week (5th to 11th February 2024).
In the UK, nearly a million people are engaged in apprenticeships, marking a significant opportunity for individuals to embark on lifelong careers right at the start of their working lives. Today, apprenticeships have evolved to offer more than ever before. They are not only a valuable avenue for newcomers to gain work experience, but also an opportunity for individuals to pursue a degree while working. Furthermore, apprenticeships have become a compelling option for up-skilling or transitioning to new roles, with 45% of new apprentices being over the age of 25.
The ITN Business programme: 'Apprenticeships: Pathway to Success' will be an in-depth exploration of the apprenticeship landscape, focusing on:
·       Diverse opportunities: showcasing the wide variety of apprenticeships available, emphasising that they are not just for school leavers but also for those seeking career changes or up-skilling opportunities.
·       Holistic approach: the versatility of apprenticeships, including options to combine apprenticeships with university or college courses, creating a unique blend of work experience and academic learning.
·       Best practices: examples of successful apprenticeship schemes and individuals' journeys, demonstrating how apprenticeships can lead to thriving careers.
·       Employer support: underlining the crucial role of employers in supporting apprenticeships and showcasing how businesses benefit from investing in apprentices.
The objective of the programme is to encourage parents, teachers, businesses, and individuals themselves to recognise the immense value of apprenticeships as a pathway to personal and professional growth. It aims to promote investment in apprenticeships, both in terms of time and resources.
From a talent perspective, scaleups remain significant employees of both international and homegrown talent. Scale ups are leaders in opening doors to young people; 74% offer opportunities to young people. Resoundingly, scale ups want more employee encounters and enhanced funding for apprenticeships/work placements and more teaching of entrepreneurship, alongside the better progression of digital technology and social skills training.
Nina Harrison-Bell, Head of ITN Business, said, "We are delighted to announce our partnership with UCAS, the AOA and the Scale UP Institute – two extremely credible organisations in the education sector and another with a key focus on driving growth in the UK economy. It is a privilege to be able to raise awareness of the role apprenticeships have in driving growth for the UK economy, but more importantly for the individuals involved in these important schemes. We hope our programme and digital campaign, "Apprenticeships: Pathway to Success" will encourage many more to find out more about this route to career and business growth."
If you would like to feature in the programme please contact: Jamie.Connolly@itn.co.uk or Tamsin.Luck@itn.co.uk
About ITN Business
Building on its decades of experience in B2B and corporate communications, ITN Business works with organisations, businesses, and brands to create a deeper, more authentic connection with their people, customers, partners, investors, or the wider world. Industry News is our broadcast news-style programming and bespoke digital campaigns for sectors, charities, and industries, sharing stories of innovation, best practice and thought leadership, to connect with the audiences that matter to our clients, and to ensure longer-term impact. For more information visit: business.itn.co.uk/
About the Association of Apprentices:
The Association of Apprentices is dedicated to supporting apprentices and promoting apprenticeships as a pathway to success. Through advocacy, resources, and networking opportunities, the Association of Apprentices helps apprentices achieve their career goals.
About UCAS:
UCAS (Universities and Colleges Admissions Service) is the UK's central organization responsible for managing applications to higher education institutions. UCAS provides support and guidance to students as they apply for university courses and helps them make informed choices about their educational future.
About the Scale Up Institute:
The Scale Up Institute builds on the pioneering research and recommendations published in the 2014 Scale-Up Report. The Institute collaborates with policy makers, corporate partners and educational establishments to take these recommendations forward, to track the targets set out in the report, and to make a real and identifiable impact. o make a real and identifiable impact.