The Apprentice Meet Up: Manchester - October 2023
24/10/2023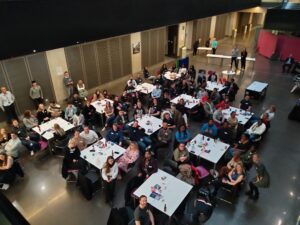 Unlocking Success: The Apprentice Networking Event in Manchester October 2023
Apprentices understand the importance of networking for professional growth and development. Networking provides invaluable opportunities to connect with industry experts, learn from their experiences, and expand professional circles. That's why we are excited to have hosted the Apprentice Meet Up: Manchester, this month in partnership with Manchester Metropolitan University.
These events are a unique platform specifically designed for apprentices to come together, exchange ideas, and foster meaningful connections. It is an event that celebrates the spirit of learning and collaboration, creating an environment where apprentices can unlock their full potential and pave their way to success. And it can count towards off-the-job training, too!
Attending the Apprentice Meet Ups provides a multitude of benefits that can greatly enhance professional development. It provides a platform to connect with a diverse range of professionals from various industries. This allows the broadening of horizons, gaining perspective, and building relationships with individuals who can positively impact career trajectories.
Apprentice meet ups offer a unique opportunity to hear from expert speakers and peers. The line up of speakers for the October 2023 event in Manchester were truly knowledgeable in sharing their insights and experiences. Apprentices learnt from their success stories and were left inspired to achieve their own goals. Attending this event to speak were James Walker
,
Hannah Rashidi
,
Olivia Williams
,
Sumayya Ali
, and
Adam Raja
.
Moreover, the event had a great turnout of apprentices from different levels, backgrounds, and industries. This creates an environment conducive to networking and collaboration. Apprentices can exchange ideas, share experiences, and learn from one another, creating a community of apprentices who support and motivate each other.
With thanks to our Event Ambassadors Hammad Lateef TMIET, Michael Woodhouse and Kym Lewis for all their hard work.