The Association of Apprentices Wins Best Purpose Driven People Community at the Investors in People Awards 2023
15/11/2023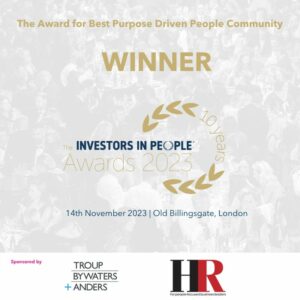 The Association of Apprentices proudly won the prestigious award for Best Purpose Driven People Community at the Investors in People's 10th Anniversary Awards Ceremony, which took place on 14th November in London. This accolade recognises the dedication and commitment of the Association of Apprentices to nurturing and empowering a community of skilled professionals.
The Investors in People Awards serves as a platform to celebrate organisations that have demonstrated exceptional leadership, innovation, and a strong commitment to the development and well-being of their employees.
The Association of Apprentices has been at the forefront of nurturing the professional growth of apprentices through community. This growing community provides peer-to-peer guidance, parity of esteem, and resources for skill development that counts towards off-the-job learning.
By receiving the Best Purpose Driven People Community award, the Association of Apprentices has been recognised for their exceptional contributions in promoting a culture of learning, collaboration, and personal development within the apprenticeship community.
This award not only celebrates their past achievements but also signals a promising future filled with continued growth, innovation, and positive transformation within the apprenticeship landscape.
Find out more about the awards here and see our video highlights on TikTok.