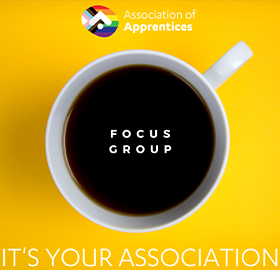 10th June 2021

The Association is led by you. So now is your time to help steer the direction and shape the future of the Association of Apprentices.
You are invited to join one of our 30-minute virtual focus groups starting w/c 21st June. In these focus groups, we want your views on what we're doing now, our plans for the future, and anything else you think we should be doing to support your apprentice journey. No preparation required, just your honest feedback!
Places are limited so click the link below to let us know about your availability:
The focus groups are now closed, thank you so much for your support!
We can't wait to meet you!