Association of Apprentices (AoA) and ITN Productions Industry News launch new co-production 'Apprentices: Connect, Engage and Inspire'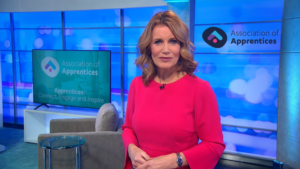 02 February 2022
LONDON (FEBRUARY 9) – Launching at 'Build the future through community' virtual event during National Apprenticeship Week on 9th February 2022 at 16:00 here.
AoA has partnered with ITN Productions Industry News to produce Apprentices: Connect, Engage and Inspire, a news-style digital programme exploring the apprenticeship landscape of the UK and the future of employment as we emerge from the pandemic.
There are almost one million apprentices in the UK today.  For those entering the workforce for the first time, it can be the gateway to a life-long career.  Alternatively, apprenticeships can provide an opportunity to up-skill in a current role or re-train in another field at any age. Apprentices: Connect, Engage and Inspire shines a light on the excellence of employers and apprentices, showcasing the businesses and sectors that are successfully integrating apprentices into their workforce and their latest innovations and unique approaches.
Anchored by presenter Sharon Thomas, the programme features industry experts along with informative interviews, news items and sponsored editorial profiles inspiring businesses and the next generation of apprentices with first-hand stories of success. Emily Austin, CEO of AoA joins Sharon Thomas to discuss the changing age profile of apprentices, how the role of the apprentice has evolved and AoA's ambitions for the future. Sharon Thomas interviews Jason Holt CBE, Vice-Chair of the AoA to hear more about the background to AoA and in a short film led by the AoA, a cross section of apprentices discuss the benefits of an apprenticeship to their careers.
A film with Health Education England, part of the NHS, working in partnership with the Association of Apprentices, explores how Great Ormond Street, one of the world's leading hospitals for children, offer apprentices a wide variety of opportunity in the NHS and not just in healthcare. Toyin Peters, Senior HR Advisor at ITN and Karimah Bangura, ITN apprentice, discuss the apprenticeship scheme available at ITN where apprentices get hands-on experience on projects in journalism, television production and technology whilst progressing towards a nationally recognised qualification.
Ann Francke, CEO of The Chartered Management Institute explains how the CMI work with people at various levels of their career and the benefits of management-based apprenticeships. In a film with Lloyds Banking Group, the company show how they offer apprenticeships that go beyond financial services roles and into digital and technology, whilst studying for an industry recognised qualification. Network Rail is one of the UK's largest apprentice employers and the programme showcases how they offer a career full of possibilities from engineering and finance to business and IT.
Openreach is looking to help redress the effect of the pandemic by creating thousands of new jobs, including apprenticeships, and the programme explores how they are aiming to make its workforce more diverse and inclusive. Recruitment company Zenopa is into its fourth year of offering business degree apprenticeships and showcase how the company has formed a strong partnership with Cranfield Business School.
Emily Austin, CEO of the AoA said: "Working with ITN Productions Industry News to create the programme has been an amazing experience.  We've seen first-hand how apprentices, employers and providers are benefitting from apprenticeships and I hope the programme encourages others to get involved.  The programme launches at an incredibly exciting time for the AoA as we expand our community across the UK, and help many more apprentices to benefit from their apprenticeship experience."
Nina Harrison-Bell, Head of ITN Productions Industry News, said: "We are delighted to partner with AoA to create a programme that raises awareness and understanding of the value of apprenticeships, not just for school leavers but for people of all ages who are looking to change career direction. We hope the programme provides a platform to address existing stigma and help shift perceptions and narrative so that the UK can emerge from the pandemic as a leading skills economy."
The programme will premiere at 'Build the future by community' a virtual event run by AoA on 9th February 2022 at 16:00 during National Apprenticeship Week.  The programme will be supported by an extensive communications campaign spearheaded by AoA and its professional partners and supported by ITN Productions. The full programme can be viewed here after the premiere.
Watch here
About ITN Productions Industry News
ITN Productions produces bespoke creative and commercial content for broadcasters, businesses, brands, rights holders and digital channels. Industry News forms part of this offering and is a communications tool for leading industry bodies and national associations produced in a broadcast news-style programme format, including interviews, news items and sponsored editorial profiles. For more information visit: www.itnproductions.co.uk