Day-To-Day Performance - Top 5 Techniques & Tools
31/03/2022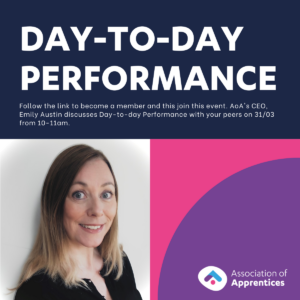 By Emily Austin, CEO AOA
Thank you to everyone who joined the coffee break this morning.  What a great way to round up March's focus on day-to-day performance!  I picked up a couple of great tips for managing time.  For those who weren't able to make it, I shared my top five techniques and tools:
1. Look after yourself – number 1 tip for managing performance!  I know we all know that sleep, nutrition and exercise are important – but they really are!  I'm at my most productive when I look after myself.  Check out Arianna Huffington's The Sleep Revolution!
2. Understand your natural rhythm – so when are you most focused and when are you at your not-so-focused.  For me, I'm most focused in the morning, by late afternoon I find it difficult to write as well as I'd like to or to make decisions.  Also, top tip from former monk Jay Shetty – plan your creative and logical work separately if you can, as you use different sides of your brain, and switching between one and the other can be tiring!
3. Plan one thing for yourself in your schedule – otherwise you feel like all of your time is invested elsewhere.  For me some things have to be planned in as they are non-negotiable for example taking my daughter to school.  But I'm trying really hard to make exercise one of these things.
4. Plan! – I make sure I write a list on a Friday afternoon before I leave the office for the week ahead (so I can switch off at the weekend!).  This plan is made up of tasks that meet my annual/quarterly/monthly/weekly deadlines and objectives.  I put them into days of the week and then everyday I mark those activities I absolutely have to achieve that day.  I'm always re-planning too and try not to beat myself up too much if I don't get to everything.
5. Understand what works for you to combat procrastination.  Simply just starting or adding a time limit to tasks works for me (well most of the time!).  I try not to battle with my internal chatter as to why I should or should not do something.  I heard a former Navy Seal speak once about pausing his brain and just doing the task anyway – he said he knew he'd regret it a couple of hours later if he didn't just do it (I am trying this with the gym and it works!).
Make sure you tune into April's 'Coffee Break' session as we will have a special guest from Not Going to Uni.