The top soft skills every apprentice needs to succeed
25th November 2021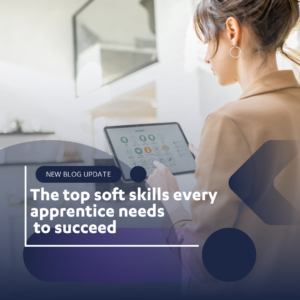 Soft skills are not only fundamental in developing your career, but they're critical in how you navigate your everyday working life. Whilst hard skills are easier for employers to identify and train, an individuals' soft skills are often considered equally, if not more desirable for the successful appointment to a role. The impact of Covid-19 and the rise in remote / hybrid working means that our soft skills are under closer scrutiny, and the need to develop them further is more important than ever.
What are soft skills and why are they important?
'Soft skills' is the broad term referring to our personal character traits, how we interact with others and approach or respond to tasks and scenarios within our daily lives. These skills are not restricted to a specific sector or role, they are transferable skills that are developed over time with experience and self-awareness.
The earlier in our careers that we are aware of our soft skills and understand how to develop them, the more likely we are to succeed in our professional role and enhance our employability. Soft skills allow us to work effectively, help us improve our working relationships and implement our technical skills and knowledge effectively. The more we develop these skills, the better equipped we are to manage a healthy work / life balance, cope with challenges and become a valued member of our organisation.

Our top 5 soft skills
There are a lot of different words or terms used to describe similar, or the same soft skills. So we've compiled our top 5 soft skills desired by employers that will help you get a head of the game.


Adaptability
In our rapidly changing world, demonstrating the ability to adapt and respond to unforeseen challenges is key. This can often include being out of our comfort zone, which allows for professional growth and the development of new skills. Employers and colleagues value someone with the ability to be flexible, think outside of the box and offer new ideas or alternative solutions when things don't go to plan. You can complete our flexibility and adaptability e-learning course on AoA Learn here at any time.
Autonomy
The rise of remote or hybrid working means employers are more reliant on employees working independently and often at times, without any supervision. Confidently working autonomously not only increases productivity, but builds your own knowledge and skill set. Demonstrating this to your colleges builds trust and proves that you're a valuable team player. You can evidence this on your CV or during interviews with examples of tasks or projects that you have delivered as part of your apprenticeship.

Communication
How we communicate impacts every part of our lives and lays the foundation for many other skills. Developing a self-awareness of your communication style and approach with others is key to improving your overall communication. A strong communicator can work efficiently independently and with others, it is important to recognise that not all communication is verbal. You can take a communication and interpersonal skills e-learning module on AoA Learn to develop your communication skills further.

Growth Mindset
Udemy's Workplace Learning Trends report revealed that growth mindset was the fastest growing soft skill of 2020. Growth mindset is an approach focusing on the ongoing development of your skills and knowledge. People with a growth mindset increase their commitment and productivity at work as they are continually seeking opportunities to learn, gain new skills, and enhance their existing skills. A growth mindset also helps us handle setbacks, as a growth mindset approach means mistakes are not perceived as failures, but an opportunity to learn and improve. A growth mindset allows us to build on our other soft skills like resilience and adaptability.
Time management
Proactively managing your workload is fundamental in fulfilling your responsibilities at work regardless of your technical skills or ability. Responding to a heavy workload is difficult, however, effective time management can ease the burden. Working closely with your colleagues to prioritise your workload and focusing on outputs will allow you to build a sustainable approach to effectively managing your time. There are a number of time management resources including our bespoke e-learning module that you can access here on AoA Learn.

Evidencing your soft skills
Unlike hard skills, which are often evidenced through quantifiable skills and qualifications, soft skills are more intangible. We all have soft skills and are stronger in some areas than others. Whether it is for a job application, interview or performance review, it is still possible to evidence soft skills. Here are some practical tips:

Identify the soft skills detailed in the job description or person specification of the role you are applying for and make sure you include these in your CV and cover letter. Remember, it is not enough to simple state you have the skills, include examples in your current or previous roles of how you used these skills to successfully fulfil your responsibilities.

Ask for regular feedback from your manager and colleagues on the specific skills you are looking to develop further.

Constructive feedback should include what you did well and what you can improve on. Although it can be daunting, it will help improve your self-awareness and build a bank of evidence showing how you are developing your soft skills.

Adopt a logical structure for interviews when evidencing soft skills so that your examples are clear. Interviews can be nerve wracking so preparing a STARR (situation, task, action, response, reflection) approach can help you feel more confident in conveying you have the relevant soft skills. You can read more about the STARR approach on AoA Learn.
For more training and development resources on soft skills, visit AoA Learn to discover our range of e-learning. Access to AoA Learn is exclusive for all Association of Apprentices members, sign up here to access the platform for free.