AoA's 12 Days of Christmas!
1st December 2021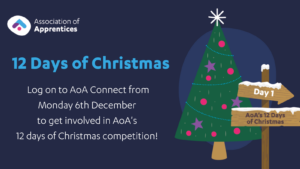 On the first day of Christmas, AoA gave to you… a chance to win PRIIIZZZEESSS! Yes, you heard it right, AoA is launching our annual 12 days of Christmas prize draw! 
What do you need to know?
Firstly, our unconventional 12 days start on Monday 6th December, and finish on Friday 17th December. Each day we will give you a chance to gain one entry to the grand prize draw (maximum of 12 entries each!). 
Each entry can be gained by completing a small task, such as sharing an idea, posting on LinkedIn, or joining the conversation! Each task will be unveiled at 9am every day. Now, we know you are busy people, so you'll have up until 17:00 on Friday 17th October to complete any of the tasks you choose! 
Did somebody say prizes?
Yes, yes we did. The Grand Prize is a £100 voucher! This will be from a store of your choice but we recommend these ethical high-street retailers.
We will also be giving out prizes throughout the week to participants at random!
GOOD LUCK!
Terms and Conditions 
Summary
Win a £100 voucher (as described below) by submitting  one or more entries as described on AoA Connect between 09:00 on 6/12/21 and 17:00 on 17/12/21.
Eligibility
Entrants must not be employed by AoA.
Entrants must be 18 years old or over.
Entrants must be UK residents.
Entrants must be members of the Association of Apprentices.
Entry
One entry per task is permitted up to a maximum of 12 entries to the grand prize draw. The first task (Day 1) is compulsory, if this is not completed then the individual's remaining entries will be forfeited.
Entries must be submitted between 9am 6/12/2021 and 5pm on 17/12/2021. Entries received after this time will not be accepted.
The draw
One winner will be chosen at random on 20/12/2021 and will informed by email and AoA Connect on the same day.
The prize
The grand prize is a £100 voucher from a store of your choice.
Additional smaller prizes may also be given at random to participants of the prize draw AoA reserves the right to change these terms and conditions without notice.
The Association of Apprentices reserves the right to replace the prizes with an alternative prize of similar value if circumstances beyond their control make it necessary to do so. The winner may not be informed of this before delivery and returning for a different selected product is not an option. The prizes are non-refundable and non-transferable and will not be replaced if lost or stolen. Cash alternatives or refunds will not be provided under any circumstances.
No purchase or payment is necessary to enter or win.
Administrative
The Association of Apprentices accepts no responsibility for entries that are lost, mislaid, or damaged, regardless of cause, including, for example, as a result of any equipment failure.
The winner will be contacted by an Association of Apprentices' host via message on AoA Connect and email.
AoA may ask the winner to confirm their full postal address and telephone number in order to have the prize sent unless a code can be sent via email. The winner will have seven days to reply in order to claim their prize. If AoA does not receive correspondence within 48 hours, another winner will be chosen at random.
Please allow an extended delivery time for your prize (if applicable) due to the festive season. If unforeseen circumstances occur and results in a delay of delivery, please do get in touch.
The Association of Apprentices' decision regarding any aspect of the prize draw is final and binding and no correspondence will be entered into about it.
Privacy Statement
Who we are: The Association of Apprentices is the data controller and responsible for your personal information.
What information we collect and why: Your membership details will be used to check your eligibility, select a winner; and to send out the prize.
If additional information is required and you fail to provide your personal information within  7 days, we will not be able to perform the contract we have entered into with you in relation to the *prize draw.
Who we share your information with: Once selected, the Association of Apprentices may share the winner's name on social media to announce the winner of the prize draw.
Our lawful basis: We have a lawful ground for processing your personal information for the above purpose because the processing is necessary for the performance of our contract with you in relation to the prize draw.
Marketing communications: Your communication preferences remains unaffected by entry into this prize draw. You have the right to withdraw your consent to receive marketing at any time by 'unsubscribing' from any email from the Association of Apprentices.
How to contact us: For further details on how to exercise your rights, please contact us using the following details:
Email: members@associationofapprentices.org.uk
Post: Association of Apprentices, 4th Floor 45 The Poynt, Wollaton Street, Nottingham, NG1 5FW
For more information about how we process your personal information please see our website privacy policy here.
The prize draw is in no way associated or endorsed by any social media platform.