Jessica Oghenegweke is Appointed as Non-Exec Director of the Association of Apprentices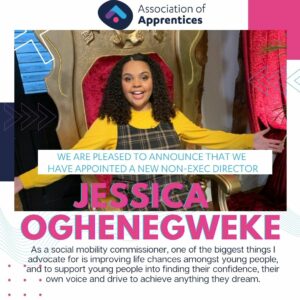 21st June 2021
Jessica Oghenegweke, a Commissioner for the Social Mobility Commission (an independent extension of the Cabinet Office), joins the board of directors of the Association of Apprentices created by former Lord Mayor of London, Sir Peter Estlin and educationalist Jason Holt CBE.
The Association of Apprentices (AoA) chaired by Estlin and Holt, has appointed Jessica Oghenegweke, Commissioner for the Social Mobility Commission, who advocates for social mobility in apprenticeships.
The Association aims to unite and support apprentices in their journey whilst filling the gaps to provide a vocational alternative to full-time education. The AoA's founding principle is that apprentices themselves must lead the charge, so it is key that the Association is for apprentices and led by apprentices.
Jessica, as a former production apprentice for the BBC, joins AoA at an essential time to steer direction and strategy for the requirements of their growing membership. Alongside advising ministers, Jessica is also a creative host for Apprentice Nation and is currently studying Global Challenges at Brunel University. 
Peter Estlin commented "I am absolutely thrilled that Jess has joined our Board. Jess has an enormous passion for apprentices and is a big champion of social mobility, this being very much as the heart of our Association, enabling all apprentices to fulfil their ambitions".
Jessica Oghenegweke said "I am elated to be joining the board of directors at the Association of Apprentices. Apprenticeships are a fantastic tool for boosting social mobility, and I'm really looking forward to working with the board of directors and apprentices to create a real community of apprentices across the UK and provide more opportunities around the UK to those whose lives could be positively transformed through completing an apprenticeship. Being through an apprenticeship myself, I have seen first hand how vital they are for opening doors that were once shut, especially for those from disadvantaged backgrounds. I'm excited to be part of an organization that believe in the importance and potential of apprenticeships as much as I do".