Apply to become a member of AoA's Apprentice Council
08 June 2022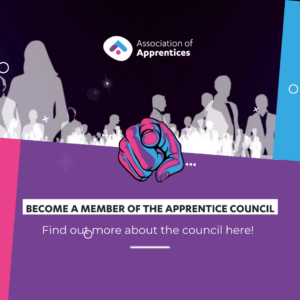 Do you have what it takes to help steer the direction of AoA, get involved in activities, and share your ideas… all whilst developing your professional network?Applications are open on 9th June and must be submitted by Monday 20th June 2022. 
How to apply:
1. Find out more about becoming a member of the Apprentice Council and what it entails here by reading this: Association of Apprentices Apprentice Council and watching the video below.
2. Submit your application via the online form. There are some basic questions to fill in and some longer ones where you get the chance to tell us more about yourself and what you'd bring to the team. You can do this part in writing or video! Click here to apply to be a member of the apprentice council.
3. Sit back and wait… Good luck!