AoA invites UK apprentices to Manchester for The Apprentice Meet Up
28 July 2022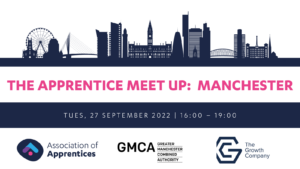 Join us in Manchester where we're offering apprentices the chance to connect, network and develop.
About this event
By popular demand, the Association of Apprentices (AoA), Greater Manchester Combined Authority (GMCA) & The Growth Company, Education & Skills (TGC) are proud to present the Apprentice Meet Up: Manchester.
Taking place on Tuesday 27th September at 4pm in Manchester city centre.
Apprentices throughout the UK have told us that they often miss out on the social element to the apprentice experience. So, this autumn we cordially invite you, current and recently completed apprentices, to our exclusive first event in the North West! From 4-7pm you will have the chance to hear from influential speakers and take part in development sessions before meeting your peers over drinks and nibbles with music to keep the vibes going!
As a development and social event, we are expecting this event to be VERY popular. Come alone or with a group, as long as you are a current or recently completed apprentice, you are invit ed! Break the ice with your peers while possibly counting towards your off-the-job learning! We want each and every one of you to find the place you belong, with your community and we're going to make sure we do everything we can to make your experience the best and most valuable experience it can be.